Dressing for Residency Interviews, Revisited
One of last year's most popular posts seems to have been this one, which covered tips on how to dress for residency interviews. So, as we approach interview season once again, I thought it might be worth revisiting the topic.
The Suit
The first question people always ask is whether they need to wear a suit. So let me get this out of the way up front: yes, you need to wear a suit. You just do. You will stand out like a sore thumb otherwise. Black, dark navy blue, and grey are appropriate. Choose a classic style. Women can wear a skirt suit or a pantsuit, but avoid anything excessively trendy (wide leg pants, etc). Skirts should hit at or just below the knee. It should fit you well – take it to a tailor if necessary. Choose one pair of shoes for your interviews and stick with them – that way, your pants can be hemmed to the length appropriate for your shoes. More on shoes later. Look around for sales – I got my suits for 40% off.
It's worth getting two suits. You won't always have time to dry clean your suit between interviews, and it would be really unfortunate if you got something on your suit and had to show up to your next interview with a stain on your suit!
I recommend getting wool because it looks better, drapes better, and will hold up better, but of course it does require dry cleaning.
If your pants or skirt have belt loops, wear a dressy leather belt. Black is usually the best bet.
Here are a few examples:
J. Crew, Campbell blazer, $248
(I would go with a darker color, but this is what they had a picture of on the website)
J. Crew, pencil skirt, $128
J. Crew, Campbell trouser, $148
Banana Republic lightweight wool blazer, $198
Banana Republic lightweight wool pants, $110
Ann Taylor suit jacket, $169 (these are cheaper than the J. Crew versions because they are polyester)
Men
Go for a classic fit. Suits that are not trendy but don't include pleated pants tend to go under the name "modern fit" at the places where I looked. My male colleagues pretty much all bought their suits at Men's Warehouse.
Pronto Uomo at Men's Wearhouse, $229 for the whole suit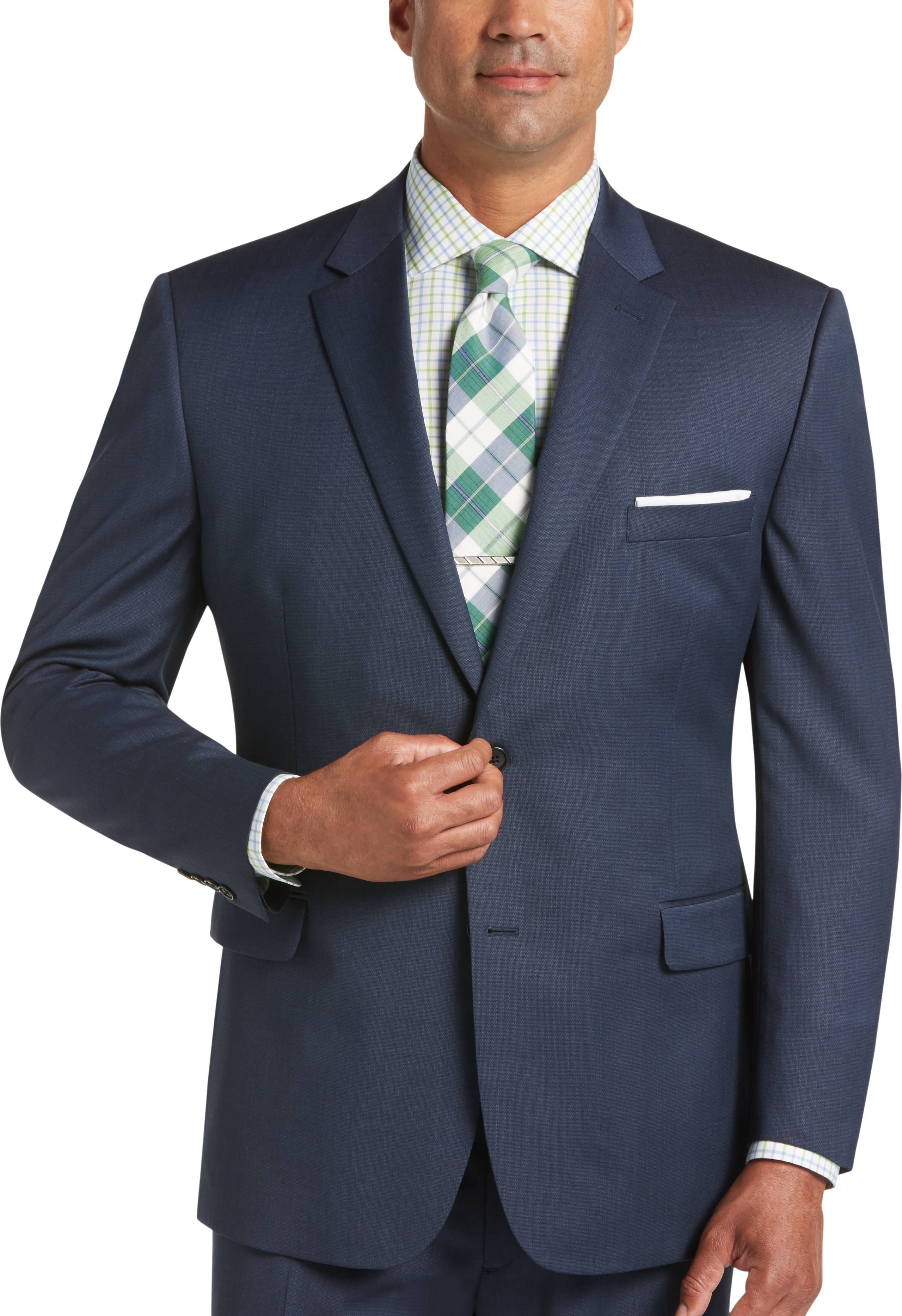 Pronto Uomo at Men's Warehouse, $250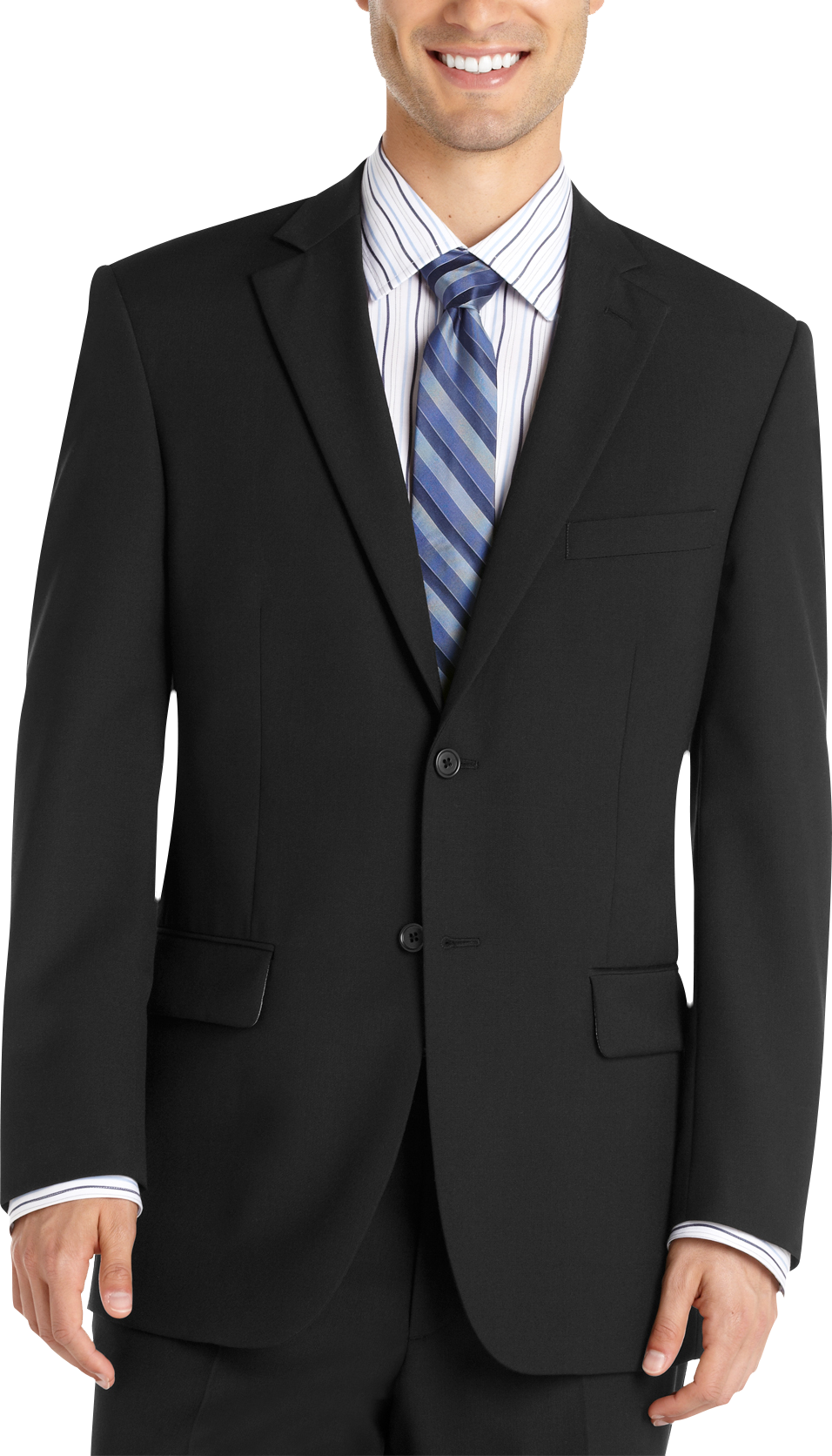 Wilke Rodriguez Modern Fit Suit at Men's Warehouse, $180
The Shirt
Women
Women should wear a nice blouse or a fine sweater. Don't wear anything that will make you nervous, or that you will constantly need to adjust throughout the day. If button-down shirts tend to gap, don't wear one. Slippery textures tend to drape the best under a suit. Collars can be awkward, because they don't always fall nicely under your jacket. A shirt with a bit of a design on the front is a reasonable alternative to wearing a necklace. Tuck your blouse into your pants or skirt.
Men
Men should wear a plain or subtly patterned button-down shirt. Look at the examples under suits above. Try to avoid the black suit-white shirt combo if you can. Any place that sells suits will be able to help you with matching shirt and tie. Avoid pink and purple – conservative programs may be put off by that.
Accessories
Jewelry
Conservative jewelry is appropriate, nothing too flashy. A conservative and professional watch is a good bet. Women should plan on earrings if you have pierced ears, maybe a necklace depending on the shirt you are wearing.
Bags
Ladies, bring a purse big enough to hold a folder, since you will get one at every interview, and the other items that I list below under "What to bring with you on interview day."
Men, consider an attache case or a leather portfolio, so you have a place to take notes, and to put anything else you might need or want.
Makeup
Ladies, wear simple and conservative makeup. Your makeup should not be distracting in any way. Your goal should just be to make sure that acne or dark circles don't distract the interviewers, either. Bring whatever you need to touch up your makeup with you to interview day.
Men, don't wear makeup. Just don't.
Ties
Men, avoid ties with cute pictures, pink, and purple, which conservative programs may dislike. Stay simple, classic. Wherever you buy your suit, the staff there will be able to help you select an appropriate shirt and tie. Make sure you mention that this is for a job interview in a very conservative career field.
Shoes
Comfort is KEY. You will be walking all over each hospital, all day. For women, choose flats, or pumps with a low heel (less than 2″). Men, stick with black. Women have a bit more flexibility: black, nude, brown, maybe even dark red or purple if done right. Break your shoes in well beforehand. Men, wear comfortable socks that won't fall down. Women, if you aren't wearing stockings, consider those little no-show shoe liners. Choose something you can walk in all day. There will be lots of stairs.
Naturalizer flats, $79 (but on sale for $39)
Naturalizer pumps, $79 (on sale for $49)
Dr. Scholl's ballet flats, $87.50
Sock liners, $16 for 3 pairs, on Amazon prime
Clarks oxfords, reg $110 (on sale for $74)
What to bring with you on interview day
Black pens
Notebook to take notes on
Mints
Bring a copy of your entire application: USMLE transcript, CV, medical school transcripts, any research publications. There was an issue with my USMLE score transmittal to some programs, and it was really helpful to be able to pull out a copy of my score report.
For women:
Anything you need in order to touch up your makeup
Mini lint roller for any stray hairs that appear on your clothes
Extra hair ties, clips, or pins, possibly mini hair spray
Band aids or blister band aids
If you are wearing nylons, a spare pair
Other resources
UCSF Medical School has posted this Pinterest board with tips and pictures for women. They also posted this board with tips for men.
I hope this post was helpful. Happy interviewing, and good luck everyone!
(Visited 2,632 times, 1 visits today)